Aesthetics:
The Hyperfibre+ is covered in awesome geometric patterns, giving it a slick technical look. The main colours being red, dark silver, and black, it's a subtly smart looking racquet that gives off a stealthy vibe.
The racquet also comes fully strung with Dunlop's own white strings, and a white grip to match. It also features branding all over, just to remind you that you're using a racquet made by one of the most established squash brands on the scene!
Feel:
First things first, I must mention the weighting, this racquet is incredibly light, with an unstrung weight of 125 grams, and a head-light balance point, it's instantly clear that this racquet is very maneuverable. I practiced a few swings, and the Hyperfibre+ felt great for assisting a short punchy swing.
This racquet comes with Dunlop's own Hydra Max Pro grip, which feels tacky but not uncomfortable. The grip also has breathable air holes to help absorb more sweat from your hand.
This light weighting should hopefully do a great job of assisting volleying, and dominating the 'T' as much as possible. Usually, with this type of racquet, power isn't the focus, and control may be more accessible. I guess we'll see when I get on court...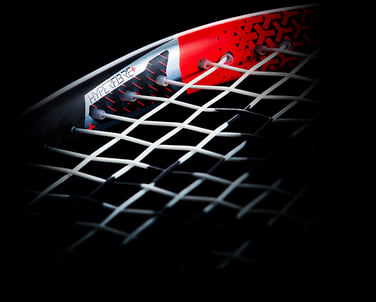 Hits:
Full disclosure, I've never used Dunlop racquets before, and I'm quite a dedicated Tecnifibre user. But I try to be as open-minded as possible when trying out different racquets!
I hit a few drives, drops, and volleys to myself with the Hyperfibre+ Revelation, and I was instantly hooked. The strings had a soft feel to them, which allowed me to feel and control the ball very well on contact, and the 14X19 string pattern re-enforced this. The large 490cm2 head size gave the racquet a pretty generous sweet spot.
I also noticed that if you put the effort in, you will be rewarded with a surprising amount of power. Obviously, since the racquet is so light, you'll have to put some extra force behind your swing to access this pace. But last of all, my favourite aspect was the touch, it felt incredibly satisfying to gently place balls into the front of the court with ease.
Overall:
Overall I've got to say that this racquet is ideal for a more advanced player who's looking for a racquet that'll help them dominate the 'T', volley when possible, and access all the speed and maneuverability they want!