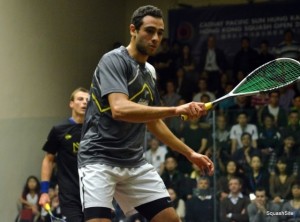 Credit to Pierre Bastien over at squashsource.com for posting that Ramy seems to now beep playing the Dunlop Blackmax Titanium Squash Racquet. Photo credit to Squashsite.
This is an older racquet that is no longer for sale. Dunlop is doing a good job at least keeping him playing with their brand. Head did not seem to have the same success when he was still using a Prince Air Stick 130 while signed to be playing with Head.
Ramy definitely seems to be particular about the racquet he is playing with and does not just play with whatever a company sticks in his hand. The racquet he is marketed to be playing with by Dunlop, the Dunlop Biomimetic Max 2012 is a very nice racquet but it seems to not be the racquet Ramy currently is playing with.
We do carry the Dunlop Biomimetic Max 2012 at our online store and there is a review of it here.