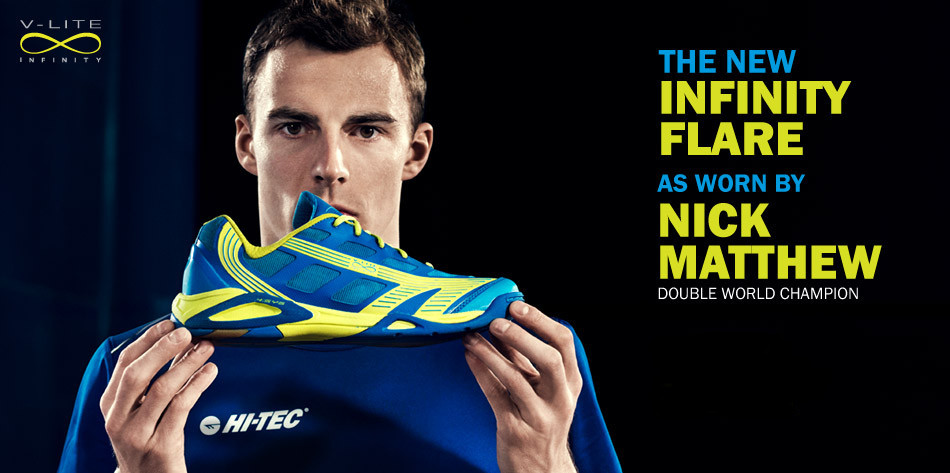 The new shoes of Nick Matthew are in stock as we announced earlier. There has been a great deal of interest in them and one my customers was nice enough to provide some feedback on them. The feedback very much supports the marketing of the technology behind the shoes which was nice to see. In particular that the offset lacing holds the foot in place better than traditional lacing. I hope this review is helpful for those of you considering purchasing these great shoes. If you do want to purchase a pair please click here.
Review of the Hi-Tec Infinity Flare Squash Shoes
"So here is my review so far…..
Shoe fits same as Gel Blast 4…….The offset lacing running down the bone to the big toe seems to hold my foot a bit better in the shoe though. As a result, there was no backward/forward or left/right movement of my foot in the shoe whatsoever.
So if you have a customer coming out of Gel Blast 4's, I would advise they get the same size.
……..The extra material on the outside of the shoe (from the laces being offset), also seemed very supportive (I tend to put a lot of pressure on this part of the shoe)
The shoe is very stable with great grip…….My court footwork needs work, but I am very quick..…As a result I end up lunging an awful lot, and I felt extremely comfortable moving aggressively around the court.
They don't have the Rhino skin like the Gel Blast, and with all my lunging I have a lot of toe drag….I have burned through the big toe joint part on all of my squash shoes, so we will see how these shoes stand up to the punishment.
So, I really like these shoes, and am glad I decided to try something different and get them.
Thanks very much for getting them to me so quickly."
-------------------------------------------------------------------------------------------
Please note this model of the Infinity Flare is discontinued. We do have the latest, improved model in stock. If you are interested in a pair click on the "View in store" link below.