Don't be fooled by how light this racquet is, you can access some serious power too...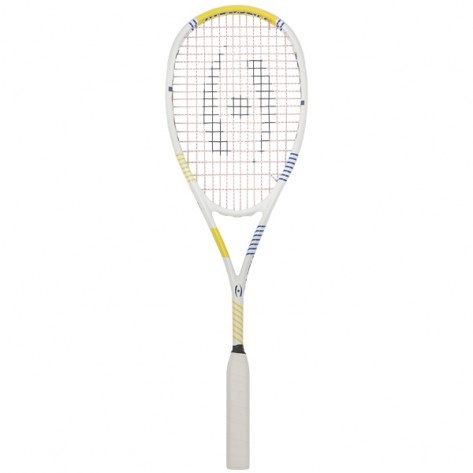 How does it look?

It comes as no surprise that a racquet named the 'Vapor' comes in such a light colour scheme, the racquet is clean white, and features bursts of yellow to give it an eye-catching appeal.
The Vapor has a traditional frame shape with a bridge, and comes strung with Harrow's own red and white Barrage Pro strings.
How does it feel?

As soon as I picked up the Vapor, I instantly felt how light the racquet actually was, with a fully finished weight of 140 grams, it is very light!

This level of lightness definitely worried me at first, as I consider myself to have a pretty big swing, however, after a few practice swings, I was delighted to feel that this racquet is actually quite head heavy, which assisted my swing perfectly!
I couldn't wait to give it a shot on court ...
How does it play?
After a few lengths, a few drops and a few volleys I began to really enjoy playing with the Vapor!
This Harrow racquet has a stiff construction, which I personally quite like! The sweet spot is a little smaller due to the 470 cm2 head size, but after a few minutes of adjusting, it's easy enough to find the sweet spot with every shot!

​It has a dense string pattern of 14 x 19, especially given the smaller overall head size, giving you more control over the ball as well as being slightly more durable which is always a plus!
Overall...
I would say that in terms of balance it is perfect for allowing good control as well as access to power. If you're looking for a lightweight racquet that packs a punch, the Harrow Vapor is ideal!