How did Harrow improve their bestselling racquet even more? They made it 5 grams lighter!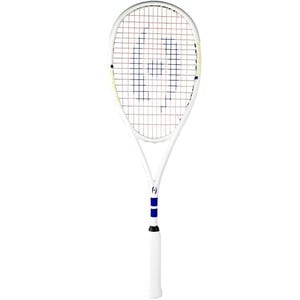 How does it look?
With the exact same frame shape as Harrow's regular Vapor, this racquet comes in a light white colour scheme, with two blue stripes above the grip and yellow and black Harrow branding around the frame.
Strung with Harrow's very own white and red Barrage Pro strings which add a little more colour and personality to the racquet.
How does it feel?
Although it weighs the same as the Harrow Spark, the Vapor Ultralite has a more head heavy balance point, meaning that it doesn't feel over the top in terms of lightness! Compared to the Vapor, the Ultralite is even more maneuverable. Compared to the Spark you get a bit more natural power as there is more mass in the head, behind the ball.
Personally, I like to use a lot of wrist with my swing at times, especially for deception at the front of the court, and with the Vapor Ultralite having a finished weight of only 135 grams, a short 'flicky' swing feels almost effortless!
How does it play?
I thought it would feel pretty much the same as the regular Vapor on court, but I was sorely mistaken, that 5 grams that Harrow shaved off makes all the difference! Whipping a last minute crosscourt was quick and easy, deception is definitely boosted by the Ultralite.
The dense 14 x 19 string pattern provides amazing control. With its smaller head size and dense string pattern the sweet spot is not massive but when you hit it you are really rewarded!
The Vaporlite, like many Harrow models, has a stiff feel to the frame making the racquet a great blend of power as well as control.
Overall...
I would say that the Harrow Vapor Ultralite is definitely a performance racquet, and I would recommend it to any player that likes to react fast to the ball and maneuver their swing with ease!