A good friend of mine, and a fellow squash player, mentioned recently that he thought that professional squash needed more drama, excitement, and rivalry.
I must say, I do agree with him. Squash isn't exactly known for its controversy and it's seen by most as a generally respectful sport. Although, this isn't a bad thing generally speaking, however, I think that a bit of a clash amongst professional players does a great job of drawing a crowd.
Take boxing for example, obviously this is a completely different sport to squash, but, the hype that surrounds upcoming boxing matches and things like trash talking at weigh-ins have proved to bring a huge audience and makes for an incredible viewer experience.
But, perhaps that's a topic for another article...
Anyway, we have been blessed with a number of great squash rivalries over the years and I thought it would be interesting to cover 3 of my personal favourite rivalries spanning over 3 very different squash generations...
Top 3 Professional Squash Rivalries
Like I mentioned above, I do think it would be quite exciting to see more heated clashes between professional players. Upcoming matches between to players with a known rivalry would definitely make for great publicity and would be a great opportunity for big build ups before the match.
Rivalries don't necessarily mean that the rival players dislike each other, many squash rivalries over the years have formed due to multiple close matches between two evenly matches players.
Here are 3 of my favourite squash rivalries over the years, I thought I'd start with the oldest and possibly the most infamous...
Jansher Khan V Jahangir Khan
These guys dominated the sport so much that there was a time period that was known in the squash world as the 'Khan Dynasty' which is crazy.
During the 1980s and 1990s these two won the majority of British and World Open titles between them. This was a time period where Pakistan dominated the sport, whereas now it's Egypt who are at the top.
There was a six year age gap between the two Khans and their head-to-head win ratio was 19 to 18 in Jansher Khan's favour. The subjective question of who is the better player is still the topic of much debate.
Although Jansher wins at the head-to-head win level, most squash players are aware of Jahangir's record setting win streak. Between 1981 and 1986 Jahangir Khan won 555 consecutive matches. Yep, 555 matches in a row.
Jahangir was very well known for his high level of fitness and his mental strength. But, he was also an incredibly fair player with a very positive attitude
Jansher Khan played in 118 finals and won 99 of them. He also played in less World Series finals than Ramy Ashour but somehow won eight more World Series titles.
Peter Nicol believes Jansher Khan is the best squash player who ever lived and Amr Shabana has commented that Jansher was the best player to ever step onto a squash court. That's certainly some strong praise!
The rivalry between these two squash legends developed in the second half of Jahangir's career and it saw them play some incredibly tight matches against one another. There is plenty of footage on YouTube of the two players playing against each other!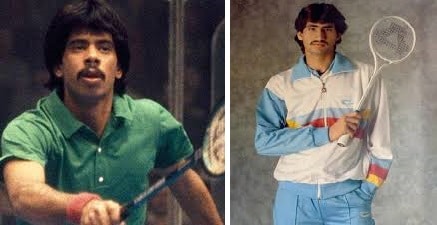 Image from Winning Squash website
Nick Matthew V James Willstrop
Two of England's greatest squash players also maintained one of squash's most bitter rivalries, James Willstrop and Nick Matthew had some serious battles over the years and also both held the world number 1 position on numerous occasions.
Matthew is now retired, however, Willstrop still competes on the PSA Tour, and, it's worth mentioning that both players have seen their fair share of injuries over the years. There is 3 year age gap between the pair and they also both have wildly different playing styles.
Nick Matthew loved to take the ball early, volley, and attack as often as possible, whereas Willstrop likes to add height and place more delicate drop shots in at a slower pace. Although, Willstrop is also a pretty good volley player due to his significant height!
I actually struggled to find information covering the pair's head to head win ratio, when I checked the PSA website it states that out of 36 clashes, Matthew won 27 and Willstrop won 9.
According to most media sources, these two players just never really seemed to get along. It doesn't sound like they argued, but it sounds like their personality and playing styles both clashed.
It's certainly a strange rivalry considering Willstrop and Matthew had to spend a lot of time together, train together, and even play on the England team together.
Nick Matthew discusses an incident in his book regarding a comment he made about James Willstrop's dad during a match. It sounds like Nick Matthew regrets the comment, however, it clearly stuck with Willstrop and drove an even larger wedge between the pair.
Their rivalry was best represented in the 2010 Canary Wharf Classic semi-final which lasted a whopping 127 minutes and ended after Willstrop went 8-9 down in the fifth and had to forfeit the match due to falling at the back of the court and sustaining an agonising muscle cramp.
This is fondly remembered as one of the best squash matches of all time, and Matthew personally offered to refund anyone in the crowd who wasn't satisfied with the game.
Although these two players had their differences, it's important to note that there was never any hatred between the two. In interviews, they were commonly asked about their rivalry, and, both Nick Matthew and James Willstrop would always acknowledge the rivalry in a very humble manor.
They wouldn't bitch about each other or make rude comments, they would just accept that they had differences, and that was great to see.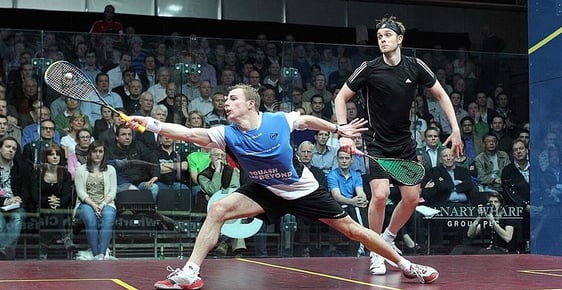 Image from Squash Mad website
Ali Farag v Mohamed ElShorbagy
This rivalry is current, ongoing, and awesome to watch every single time. Ali Farag is 28 years old, Mohamed El Shorbagy is 30, both players are from Egypt, and they've both been battling and alternating between the world number 1 and 2 spots for some time now.
Before I go into their specific styles, the most incredible thing about watching these players is their consistency. There's a reason nobody else is really getting close to that world number 1 spot. Both Ali and Mohamed never seem to have an off day, they put on an absolute masterclass display every time they play.
Again, according the the PSA website's head-to-head function, these two have played 20 times on the Tour, El Shorbagy won 12 of those matches and Farag won the other 8.
In a recent interview with the PSA, ex world number 1 David Palmer said:
"it's been fun to see the battle between Mohamed and Ali for the number one slot. Obviously, there are other players who are very close, and you have Tarek [Momen] as the World Champion right now and Paul Coll has made great strides but on their day Mohamed and Ali are out in front, I believe, and are the best."
Palmer is a pretty prestigious squash player, and he definitely knows what he's talking about, so, to read these words, it's very credible to say that Ali and Mohamed are the best players around at the moment.
There's absolutely no bad blood between these two players either, they always show absolute respect towards one another in victory and in defeat. They have a rivalry and a friendship, and, they're pushing the sport forwards in an incredible way.
Neither player is showing any sign of slowing down, and it looks like this rivalry will stand the test of time. Although these players are still beatable and have suffered defeats to players lower down the rankings, I stand by my point that their consistency is unmatched. This makes their matches against each other usually faultless and amazing to watch.
Also, on a side note, the photo below is one of my favourite squash images of all time, it perfectly sums up both players.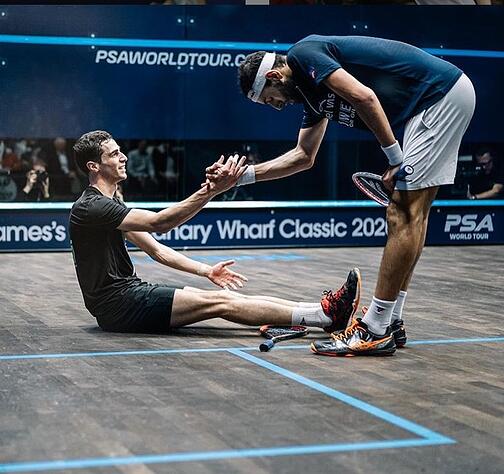 Final Thoughts...
Rivalries enhance the viewer experience of any sport, they also increase publicity in a huge way. While researching for this blog post, I came across multiple news articles from mainstream media sources on these rivalries.
It's quite rare for squash to be mentioned in media sources outside of the sport, and if we can get it to happen more often, it'll definitely help us grow the sport.
With controversial young players like Mostafa Asal climbing through the ranks, we'll hopefully see some more fiery rivalries between players in the near future.