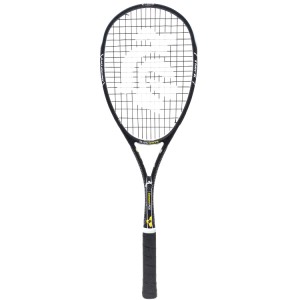 The new Black Knight models for this 2014/2015 squash season have some very common elements. They all have a very thin beam and have a head light balance. The Black Knight Element PSX Squash Racquet is the top end of Black Knight's product line. It is a 135 gram racquet and has a head light balance with Black Knight giving it a dynamic weight of 130 grams. It has a small head at 475 cm2. It is a fairly stiff frame with Black Knight measuring its rigidity at 93 which while not their stiffest frame it is close.
Its relatively light weight of 135 grams and its balance being head light make this racquet really quick to hit with. It is quick to volley with and it is easy to generate head speed with. What I really liked in particular on my forehand was that I could take a relatively short back swing, get set, then hold my shot and then snap through the ball and get excellent power. I find that racquets with a more head heavy feel lend themselves to a slightly longer more fluid swing. Racquets that are more head light are easier to accelerate and you can generate tons of racquet head speed with a relatively short back swing. Soft touch shots are a little trickier with this racquet than with a racquet with a bit more weight in the head. A racquet with a bit more of its weight in the head allows the player to feel the racquet head a bit more which is good for touch.
The smaller 475 cm2 head size of this racquet is designed more for the intermediate to advanced player. The racquet does product excellent power but I did not find it to have a really large sweet spot. To get the most out of the racquet you need to hit the sweet spot consistently. Its smaller bridged head does really help with control which is a strong point of this racquet. If you would like to learn more about why a smaller head with a bridge helps with control we have a post on the topic here that you can check out to learn more.
The Black Knight Element PSX squash racquet while fairly stiff has quite a thin beam. So while the carbon fibre used to make this racquet, Black Knights' 16K hyper-tensile technology is incredibly strong and stiff it provides decent feel and a bit of flex due to its very thin frame width. The Power Surge technology incorporated in to the racquet is designed to limit the amount of vibration back from the head to the arm and it does a good job of that. A stiff racquet with a thin beam could definitely be subject to vibration but the Element PSX does a good job of absorbing it before it gets back to the player.
Overall this is a very nice racquet suitable for a player that is looking for a really quick racquet to play with. You can generate tons of racquet head speed quickly with a relatively short back swing which makes it great for delaying your shot and snapping through the ball. It is also very maneuverable due to its light weight. I do think its more suitable for an intermediate to advanced player due its small sweet spot and also because power is being primarily generated by racquet head speed. The racquet head is through the point of contact really quickly making timing a bit harder. In the hands of the right player this racquet is a real winner as it is powerful, lightning quick and has excellent control.