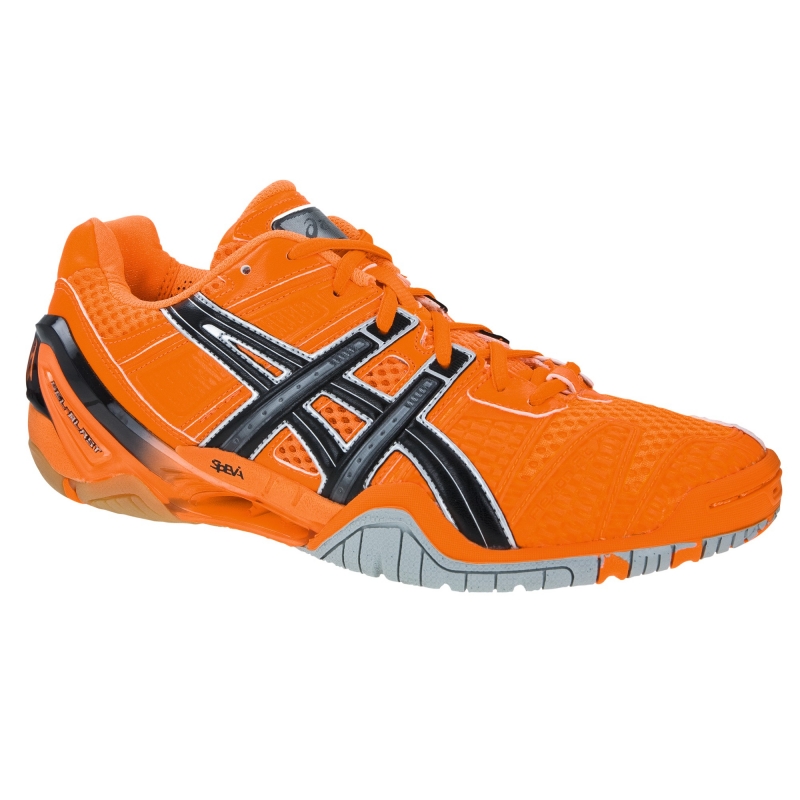 The Asics Gel-Blast 4 have been by far our best selling squash shoe ever. The Blast 4 live on and are still the current model from Asics and there are some pretty exciting new colours for this year. The first new colour is Orange/Black/Silver pictured above. Want to stand on court then this may well be the pair of shoes for you! They will definitely get you noticed. They are not only flashy though they are a terrific performing pair of shoes.
We have them available in our store. Click here to be taken to our store.
Asics Gel Blast 4 Orange/Black/Silver Squash Shoes
Asics Gel Blast 4 is the flagship ASICS indoor court shoe. Designed and engineered to provide high performance within the demanding coniditions confronting the serious court athlete.
FEATURES
GEL - ASICS GEL is a silicone-based cushioning system designed to meet the needs of both professional and recreational athletes. Forefoot GEL reduces the loading forces as the foot moves into propulsion, improving performance and minimising the risk of injury.
AHAR - ASICS High Abrasion Resistance rubber is a tough rubber compound used at the heavy contact areas of the outsole. Helps to reduce excessive wear.
DuoMAx Support System - A dual-density midsole system position to enhance support and stability, positioned sport-specifically.
NC Rubber - Compound containing more natural rubber content than traditional sold rubber, resulting in enhanced traction on court systems.
PHF - (Personal Heel Fit) 2 layers of memory foam line the collar and mold to the athlete's heel, creating a personalized fit.
SOLYTE - A lighter weight midsole compound than ASICS's standard EVA and SpEVA. Also features enhanced cushioning and durability.
Trusstic System - Reduces the weight of the sold unit while retaining the structural integrity of the shoe.
WET GRIP - An outsold made from a special clen of organic and non-organic components, designed to enhance traction even on wet surfaces.
Court-Specific Impact guidance System (I.G.S) - ASICS design philosophy that employs linked componentry to enhance the foot's natural gait from heel strike to toe-off.
Colour Details: Orange/Black/Silver