There has been a great deal of interest in the Dunlop Aerogel 4D Max squash racket since Ramy Ashour started using it. Having the #1 player in the world using your racket certainly is great for Dunlop.
I have been trying it out for a few weeks now and have been really enjoying playing with it. The long mains give this racket lots of power. The frame weight of 137 grams is relatively light and as the racket is head light it is very maneuverable. It is terrific for volleying for this reason.
The Dunlop Aerogel 4D Max is a little stiffer than the other current Aerogel 4D offerings. Its feel is a little different because of that. Most Dunlop rackets I would describe as having a soft feel.
To check out the rest of the specifications of the Dunlop Aerogel 4D Max check it out at www.controlthet.com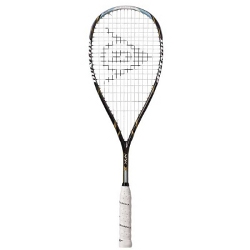 .