CONTROL THE 'T' SPORTS IS PROUD TO NOW BE OFFERING DUNLOP SQUASH EQUIPMENT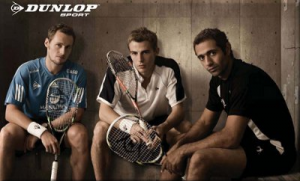 We at Control the 'T' Sports are very pleased to now be offering Dunlop squash gear. Dunlop has a long history in our sport. They have a history of greatness.
The three players in the above picture epitomize Dunlop. All three have been number one in the squash world - just like Dunlop. Dunlop racquets are used by more professional squash players than any other brand.
Gregory Gauthier uses the Dunlop Aerogel 4D Elite. This great looking frame has plenty of power. If you are looking for the Dunlop feel and want the maximum power offered by Dunlop look no further.
Nick Matthew plays with the Dunlop Aerogel 4D Evolution 120. In Nick's words it is "The reason why I moved to Dunlop". It is not the traditional shape of Dunlop but it has the the traditional feel of a Dunlop. It is a lightweight frame that has lots of power and being head light is very maneuverable. Almost nothing gets past Nick and he keeps his opponents under constant pressure, the speed of the Dunlop Aerogel 4D Evolution 120 certainly fits his game.
Amr Shabana plays with the Dunlop Aerogel 4D Ultimate. The Ultimate's denser string bed, a 16 x 19 string pattern offers superior control while still offering very good power. The Dunlop Aerogel 4D Ultimate and Amr Shabana are a great match as both exude control!
Dunlop has a great selection of squash racquets and we at Control the 'T' Sports are definitely proud to be carrying them!
###
For more information contact Jeff Warren by email at jeff@controlthet.com or by calling 1.877.370.4661