We now see 'Eye' everywhere we look in the world of squash, and there is a reason for that...
I firmly believe that the one thing every squash player has in common is passion.
I personally find the sport more addictive than any other, and I think that this passionate attitude is something that is shared throughout the entire squash community.
Eye Rackets support this ideology, and that is why they have flourished!
Humble beginnings
With Eye, the focus is on squash and nothing else.
Founded (2010) by squash players, for squash players they only sell squash equipment. This focus has given Eye the ability to consistently make multiple ranges of outstanding products.
From racquets and bags to shoes and clothing there are products tailored and refined to suit every single style of squash player!
Supported by the best...
Some of the most well-known names in PSA squash show their undivided support for Eye. Sponsoring world-renowned players like Paul Coll, Borja Golan, and Mazen Hesham to name a few!
Even post-retirement, former world no.1 Amr Shabana works tirelessly as a brand ambassador alongside Jonah Barrington.
If that doesn't boost Eye's credibility, I don't know what else does!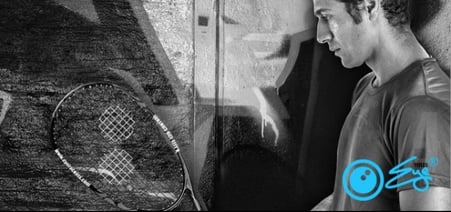 At Control the 'T' Sports, we've recognised Eye for it's great product line that caters to players of all styles. We try our best to stock an extensive variety of Eye products so you can find the best ones to suit you!
Racquet lines
Eye have two ranges of racquets in terms of frame shape, the V.Lite series and the X.Lite series...
The V.Lite range consists of racquets with a teardrop frame shape and come with either a fanned or traditional string pattern.
The teardrop racquet head generally allows delivery of powerful shots, however, the V.Lite series consists of several racquets that also focus primarily on either control or power (the best of both worlds)!
With a vast choice of weights to suit your desire, the V.Lite Control range racquets range from 110 grams to 130 grams (each racquet going up by 5 grams each time).
The control that these racquets provide can be attributed to the stiffness of the frame and the dense 14x18 string pattern.
However, the V.Lite Power range has a 12x17 string pattern, allowing a much greater level of flex from the string which is a massive help if you're looking to strike the ball with pace.
If the teardrop head shape isn't your thing, the X.Lite range should be right up your street! The X.Lite racquets all have a traditional racquet frame with a bridge, this shape attributes more to control as the head size is generally smaller and the string has less give.
Again, much like the V.Lite range, there is an option for control and an option for power, and again the main difference between the two being the string pattern (control: 14x18 and power: 12x17).
S-Line Indoor Court Shoes

Coming in a wide range of vibrant colors, from electric purple to neon yellow, the S-Line footwear range are an essential piece of eye apparel.
Used religiously by pros such as Paul Coll and Diego Elias, you can be sure that this is a footwear line that you can trust!
Designed to last with quality in mind, shoes from the S-Line range have a very well protected medial side to protect against drag.
They also feature a mesh upper that helps reduce weight, and is great for letting your foot breathe, which I find is a massive help during a tough game!
The heel comes with a great amount of cushioning, adding comfort whilst giving added support to the wearer's heel, which as we all know, is an area that takes a lot of stress on the court!
Note: fitting wise, S-Line footwear fits slightly smaller so I would advise considering going a half-size up when purchasing! However, they do break in a bit after some use!
Looking for information about the S.Line check out our full review of them

Bags, clothing, and accessories
Feel like you're just missing something from your squash gear? If you're looking to top off your kit with some clothing or accessories, Eye is the brand to look to!
Eye's performance line V-neck shirts are a stylish option, they come in a range of colours and are very comfortable to play in. They can also be mixed and matched with different Eye racquets and wristbands, as Eye use the same colour schemes across their product range!
And you can pack it all into one of Eye's squash bags, coming in a range of different sizes, colours, and styles to suit any player's needs!
I would also like to make an admirable mention of Eye's PU Replacement grip, up until now I religiously used Karakal grips, but after trying Eye's grip out, my stubborn mind may have been changed...
To check out what we carry from Eye Rackets click on the View in store button below!