Control the 'T' Sports is very proud to be one of the few retailers now carrying the Black Knight Ion X-Force Samantha Cornett Signature Edition Squash Racquet. Sam is Canada's #1 women's player and a tremendous talent. The racquet she plays with is a customized version of the Black Knight Ion X-Force Black Squash Racquet.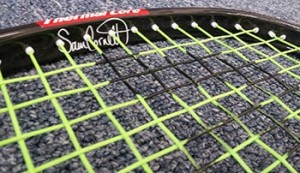 The Black Knight Ion X-Force Sam Cornett Edition is a 140 gram racquet that features a fairly head light balance. Black Knight lists its dynamic weight at 130 grams. Dynamic weight is measurement that Black Knight uses to indicate how heavy a racquet feels in your hand when you are playing with it. A head heavy racquet will have dynamic weight higher than its actual frame weight while a head light racquet will have a lower dynamic weight. The X-Force series are a very stiff racquet that produce excellent power. With a relatively small head size of 475 cm2 and featuring a bridged head it is very good for control as well. This Ion X-Force series of racquets are Black Knight top of the line racquets because of the excellent power and control. They also features Black Knight latest technologies as well. Sam's signature edition is customized with a black and red colour scheme that looks great and comes with Ashaway's UltraNick 17 string.
We asked Sam about her racquet and Black Knight and she responded: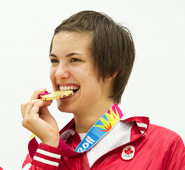 "First I love that I got to choose the colour. As for the actual racquet, I fell for it when I first tried it. I was a tough sell, since I'd been using the white C2C for years and adored it. But when I used this racquet I knew I had found the one. I can look at the numbers all I want, but it comes down to how it feels. The Ion X-Force feels a bit stiff, which I like, and the weight distribution is just right, not too head heavy.
BK has sponsored me since I was small. This racquet is a symbol to me of BK's belief in my squash career, and that means a lot. I am very proud to promote the company as I play tournaments around the world."
If you are looking for a top of the line racquet that produces excellent power, has great control then definitely take a look at the Black Knight Ion X-Force Samantha Cornett Signature Edition Squash Racquet. Black Knight is using a portion of the proceeds of the sale of this racquet to support Samantha in her career on the WSA tour.