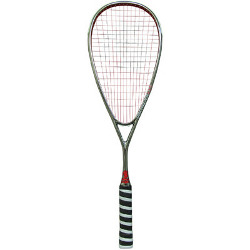 The Black Knight Quicksilver nXs squash racquet has been an extremely popular racquet now for years. It is one of our best sellers. The current Quicksilver has been around for several years now and was preceded by the Quicksilver CXX which was also very popular.
The frame weight of a 130grams is quite light. It has a fairly even balance. Its light weight and silver paint are what makes this racquet live up to its name. It is a very quick racquet to manoeuvre and its silver paint certainly draws attention.
From a power perspective it is decent but not the most powerful racquet from Black Knight. It has great control. The strength of this racquet is its light weight and balance. They combine to make a racquet that is really easy to manoeuvre and great to attack on the volley with. It comes strung from the factory with Ashaway's PowerNick. PowerNick is a fairly stiff string, has good power and provides good bite on the ball. If you like a softer feel this racquet works really well with Tecnifibre's 305 green string. I love this particular combination.
If you are a control player or someone that likes to attack on the volley the Black Knight Quicksilver nXs squash racquet is a great choice.
If you are interested in purchasing a Black Knight Quicksilver click here to be taken to our online store. We have a great price on this great racquet.
BLACK KNIGHT QUICKSILVER NXS SQUASH RACQUET
Frame: nano-CarbonXS, Quartz Carbon, HMG
Characteristics: A classic model reborn. The original Quicksilver was introduced in the 2000-2001 season and won a large following at all levels of squash. For the Quicksilver nXS, the original frame shape and specifications have been respected, but the materials and structure have been brought up to current standards. We have also pre-strung this racquet with the unique PowerNick 18 from Ashaway, and wrapped the handle with a super-tacky Rad Cushion grip. The Quicksilver nXS is an outstanding choice for both hard hitters and control players.
String: PowerNick18
Recommended Tension: 26 lbs
Rigidity Index: 88
Avg. Frame Weight: 130g
String Area: 487 cm2
Dynamic Weight: 130
If you are looking to purchase the Black Knight Quicksilver NXS Squash Racquet please click the Add to Cart button below.