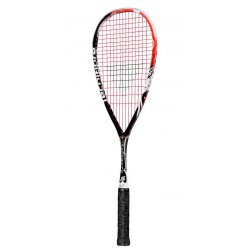 Tecnifibre Carboflex 140
The specifications:
Technology: Graphite + Basaltex
Bare Frame Weight: 140g +/- 5 g
Balance: 355mm +/- 5 g
Frame Size: 500cm2
Beam Width: 25mm
String Pattern: 14 x 18
String: X-One Biphase 1.18 for ultimate string response.
Grip: Matching Tec Dry Squash Grip for ultimate control
This is the racquet of Thierry Lincou. The current model has two main new features that its predecessors did not. It features Isopmorph shaft technology and Basaltex trasmitters. Both features really help provide great control and reduce vibration.
This racquet is listed under the control series when looking at Tecnifibre's website which makes sense based off of my experience with it. It has reasonable power due to its long main strings and 140gram weight but where it really shines is in its control. Coming with such great strings as it does, the X-ONE Biphase18 guage string definitely helps in this department.
Swinging this racquet just feels right and definitely gives you a sense of confidence in the racquet. The same can be said of when you hit the ball with it. It inspires confidence. It is also very reasonably priced for a top end racquet. It is definitely worth checking out.
We have it available here and on sale.