I decided I w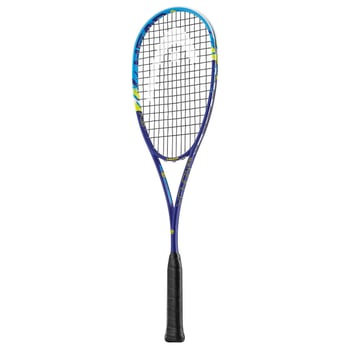 anted to give a racquet with a smaller head a go again as I believe it compliments my game. My game is not a power game it is more about moving my opponent around the court. I like to volley, I like to take the ball short and I really like to lob. When I am playing well and having success it is generally because I am moving well and because my control of where the ball is going is on. I try to make the court big for my opponent by hitting in to the corners and by hitting in to open spaces. The Head Graphene XT Xenon 135 Slimbody AFP Squash Racquet is really designed for control. While Omar Mosaad, "The Hammer of Thor" can certainly crush the ball with this racquet (he used its predecessor last season) it is designed around control and not power.
Not surprisingly being a control focused racquet it has a smaller sized head at 475cm2. The smaller head provides a tighter sweet spot and to maximize power you do need to hit the sweet spot. What I like about this is it forces you to focus on hitting the ball cleanly and to really focus on where you are hitting as well. You will not over power your opponent so you need to focus on getting the ball to go where you want it to. That means keeping the ball tight to the side wall, focusing on hitting good length and using variation in height of your shots to make your opponents life harder. The racquet helps with all of those things. A smaller string bed means there is less flex or trampoline effect. That leads to less power but more consistency in your shots.
On the volley I found the Xenon 135 Slimbody to be quite good. It is relatively light at 135 grams and is evenly balanced. I weighed it on our scale and it came in around 155 grams. The Dynergy AP 125 I reviewed last came in around 152 grams as a comparison. With the Xenon's even balance it was easy to get the racquet back and then through to the ball quickly. I also felt that the racquet being so thin, it is only 16mm thick, that it cuts through the air a little quicker than other racquets. I found I was able to volley the ball effectively to length with the Xenon 135. It does not have a lot of natural pop to it so you do have to swing at the ball rather than punch the ball but its weight and balance did allow me to do that. I found I could take the ball in short effectively on the volley with this racquet as well.
The feel on contact of the racquet is very good on balls hit in the sweet spot. There is a bit of give to the racquet on balls not hit in the sweet spot. I think that is a lot to do with just how thin the racquet really is. It definitely did not feel uncomfortable and I did not feel it in my elbow at all but you can tell when you did not hit the ball cleanly. One thing that I was concerned about last year when the Slimbody design first came out was just how durable they would be. We sold a lot of last years model and it proved to be a very durable racquet. From speaking with someone from Head apparently Omar Mosaad broke less of these in a season than he did the standard Xenon 135 he played with the season before. A fair amount less was my understanding. Our personal experience as noted was very much in line with that, they proved to be very durable.
Overall I have really enjoyed playing with the Head Graphene XT Xenon 135 Slimbody AFP Squash Racquet. I have found it excellent for control. While not really a power racquet it is more than adequate when you hit the ball clean. I found it fast to play with as well. It really suited my style of play. One last comment on the racquet. AFP stands for Adaptable Fan Pattern and it refers to the string pattern. The racquet can either be strung in a 14 x 17 pattern or an 18 x 17 string pattern. It comes factory at 14 x 17 which is how I have tested it. The 18 x 17 should help even more with control in theory. When I get a chance to try it out with the 18 x 17 string pattern I will add a comment to this post.