I like many of you have seen both amateur and professional squash players using compression clothing on the squash court. For squash it is most commonly a calf sleeve or a long sock that comes up to just under the knee that is used. I had always wondered how beneficial they would be for an athlete. I did some reading on them to get an idea on the reasoning behind using them and what the purpose was. After my research I decided it was a good idea to add compressions garments to our product line-up here at Control the 'T' Sports.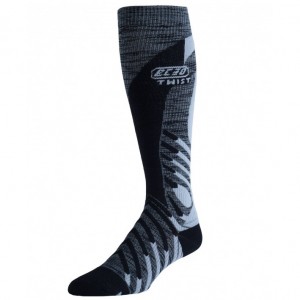 So to start with how are compression calf sleeves or socks supposed to help? They are designed to increase oxygen flow and improve lactic acid clearance. Increased oxygen flow helps performance. It allows the athlete to perform better by improving muscle power and endurance. In squash this translates in to more speed around the court, for a longer period of time. Lactic acid build up can lead to delayed onset muscle stiffness commonly referred to as DOMS. It is quite common for squash players to feel DOMS the day after playing or training really hard.
My experience with using compression calf sleeves and socks has been very positive. The performance increase is really hard to measure for me. I believe I am moving around the court better since starting using them but it is hard for me to objectively measure that. Where I have found the most benefit in the sleeves and socks is in the recovery phase. I have found that I have been much less stiff in the calves since starting to use them. It has been a very noticeable difference.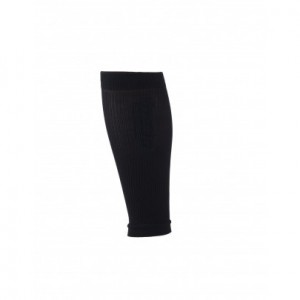 One other aspect of them that I have found really beneficial is in wearing them before playing. I sit at a desk for hours at an end at work and I am certain doing so hurts circulation in my legs. It is common for people that sit at a desk for long stretches to suffer from poor leg circulation and even swelling in the legs. The best solution/prevention for me is to get out of my desk and get mobile, even briefly to get better circulation to my legs. Work can sometimes get in the way of that and I have definitely found wearing the long socks in particular to have really helped improve how my legs feel after sitting at my desk. I attribute this to improved blood circulation and in particular less buildup of lactic acid in my legs.
The line of compression garments we are carrying are from EC3D. EC3D is a Canadian based company. They have a full line of compression garments. Their product is not only used for sport but is used in medical applications as well. There are 3 core parts to EC3D's compression garments. Medical grade compression, graduated compression and targeted compression zones.
From EC3D's site:
Medical Grade Compression
"Compression is measured in millimeters of mercury (mmHg).To be considered Medical Grade,compression level must be 20 mmHg and over."
This results in:
INCREASED BLOOD CIRCULATION
INCREASED MUSCLE OXYGENATION
REDUCED MUSCLE INFLAMMATION
LOWER RISK OF INJURY
Graduated Compression
"Strategic compression zones stabilizing key muscles and reducing muscle oscillation. Stabilized muscles are able to relax so you're able to stay in the game longer."
This results in:
FASTER REMOVAL OF METABOLIC WASTE FOR BETTER RECOVERY
REDUCED FATIGUE DURING EXERCISE
INCREASED EFFICIENCY, ENDURANCE AND STRENGTH
Targeted Compression Zones
"Strategic compression zones stabilizing key muscles and reducing muscle oscillation. Stabilized muscles are able to relax so you're able to stay in the game longer."
This results in:
BETTER MUSCLE ALIGNMENT, POSTURE AND STABILITY
REDUCED MUSCLE OSCILLATION
STIMULATE BODY AWARNESS (PROPRIOCEPTION)
MORE POWER AND PRECISION
To check out our current selection of EC3D's compression garment please click on the "View in store" button below!